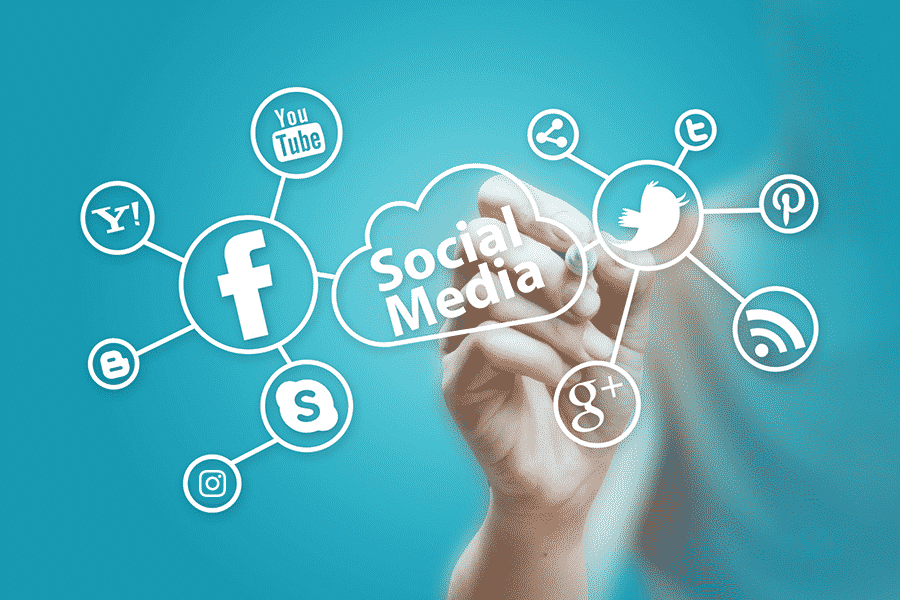 Social media is an extremely powerful—and largely free—tool to grow your audience, build a trustworthy brand, and ultimately increase your income. The great thing is that any real estate agent or broker can find an audience on social media with the right strategy. To help you get started, here are our top tips for effective real estate social media marketing.
1. Develop a Social Media Strategy From the Beginning
A successful marketing strategy doesn't happen on its own. You can get amazing results from social media, but you need to plan it out. Take some time to consider:
What you want to be known for
Who your audience is (and isn't)
Where your audience spends time (Facebook vs Instagram vs LinkedIn vs TikTok)
Which platforms you'll use
How to use each platform
What you'll offer to social media followers (website, freebie, and so forth)
This will make it easy for you to keep your content interesting and light-hearted, and build your authority and niche. By defining your brand and planning out content from the beginning, you'll be able to post more effectively and more consistently with less stress.
2. Get a Professional Logo
If you're just starting to build your social brand, don't skip the basics. Get a professional logo made in the beginning so you can build loyalty and be memorable to your followers. You can get a logo made after you start building your brand, but you'll see the most benefit in your social media growth from having it done right off the bat.
Luckily, a high-quality logo is very affordable if you use a service like Tailor Brands to create it. Tailor Brands uses artificial intelligence (AI) technology to easily create and customize your logo—no design experience necessary. Alternatively, if you need a professionally designed logo as cheap as possible, try hiring a graphic designer from Fiverr and get your logo for as little as $5.
Another brand-building must-have is a website. If you don't already have one, you might be surprised by how easy and affordable it is to build your site with one of the best website builders for real estate.
3. Keep Branding Consistent Across All Online Platforms
As you build a social media presence, your followers should naturally flow between your profiles and your website without barriers or confusion. Achieve this by keeping your logo, writing style, and overall branding the same and by frequently talking about the content on your website. You can publish interesting blog posts, offer freebies, videos, or property information on your website and give teasers on social media.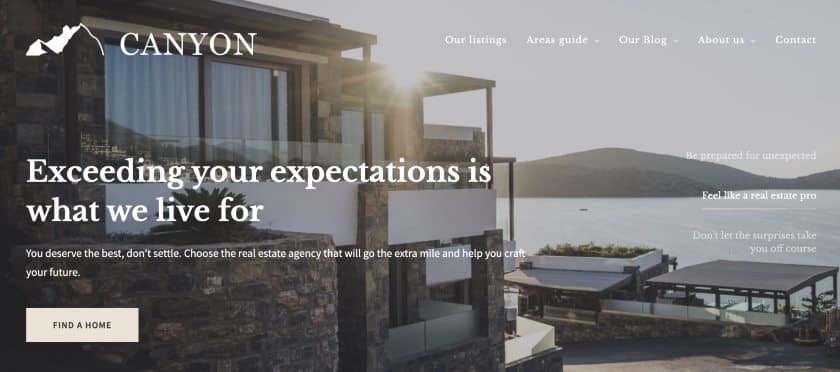 Sample Placester website design
But you shouldn't spend weeks away from clients or social media just to learn how to code and design your own website. You can easily create and customize a real estate website with Placester. Placester allows you to connect your website to social media, post blogs, and create a beautiful, branded IDX website without code. Check out Placester's website designs and start your free trial today.
Visit Placester
4. Be Sure to Post Regularly
We live in an era where virtually every potential client will Google your name or scroll through your social media feed before reaching out or accepting your calls. Real estate social media strategy is a perfect way to build the trust of potential clients, so it's important to connect and be present online consistently. Little by little, you'll define your portfolio and your brand as a trustworthy real estate expert.
5. Take Advantage of Automation & Scheduling Tools
The idea of posting on multiple social media channels every day or a few times every week can feel overwhelming. You can make it easy to show up online consistently by using a tool like Hootsuite to view, plan, and schedule all your posts in advance. You can plan out your social media posts in advance and automate posts, saving you time every day.
Check out our article on the best social media tools for real estate professionals for more helpful examples.
Pro tip: Social media scheduling and automation tools can save you a lot of time, but be sure to consistently check in on your scheduled posts and be conscious of current events to avoid appearing insensitive (or simply unaware of the world outside of your marketing).
6. Use Each Platform for Its Intended Purpose
Every social media channel is made differently, so you should use them all differently. You can—and should—repurpose your content, but don't simply copy and paste the same post on a different platform. You'll benefit the most from tweaking each post to best reach the different audiences on Facebook, Instagram, Twitter, and so on.
For example, here's how you could differentiate their social media marketing content:
Include news, events, real estate memes, and market reports about your town or city on your Facebook Business Page.
Use YouTube to create a library of property videos, and edit Instagram stories or re-post Facebook Lives.
Use Twitter as a news syndication source to stay top of mind.
Use polls, questions, and show property tours on Instagram stories, reels, or IGTV.
Use LinkedIn for real estate to connect with other professionals and potential partners, and to generate leads by adding a link in your profile.
Use Nextdoor to post listings or tips for buying, selling, or taking care of your home.
7. Encourage Social Media Engagement
Posting on social media is important, but it's only a piece of a successful real estate social media marketing strategy. In order to substantially grow your audience, reputation, and clientele on social, you need to engage with your followers. Engaging is the key to building relationships and gaining clients from social media, plus it gives you a boost in the algorithm.
Here are a few ways to encourage engagement on social media channels:
Respond to every comment or message you receive
Like and comment on your follower's posts
Use features in Instagram stories like polls, questions, and sliders
Ask fun and unique open-ended questions
Go live to answer questions
Don't be afraid to use your personality and humor while staying professional
Pro tip: You should also use social media to intentionally stay in touch with your past clients. Send a personal friend request or follow request and you can support them when they post life updates or interesting content. This helps you to stay top of mind and helps you continue to build a natural relationship with clients, which makes it easy for them to send you referrals.
8. Outsource Your Social Media Management
If you believe that social media is an important part of your brand but you don't have the time or social media expertise to leverage it effectively, consider leaving it to the pros. Outsourcing your social media management with a service like Lyfe Marketing can increase your return on investments, as well as allow you to spend your time on working with clients and closing deals. Lyfe Marketing is a real estate social media marketing agency, so you can be confident that they know the best ways to reach your audience and grow your brand.
Visit Lyfe Marketing
9. Enhance Your Social Media Photos With Virtual Staging
People are looking at your listings, and they're looking to find a home that speaks to them. Even if your homes are furnished, you can use a virtual staging service like PadStyler to help would-be buyers better visualize what it would be like to live in one of your listings.
This is also a helpful strategy because according to the National Association of Realtors (NAR), staging a home can increase its dollar value around 6% to 10%. With the average cost to stage a room at around $500 per month, it's a worthwhile investment that can increase your selling price—and your commission.
Virtual staging companies often offer a range of additional beneficial services beyond photo manipulation. To help you pick the best option for your listings, visit our guide on the best virtual staging services.
10. Use Video to Make a Connection & Show Behind the Scenes
Video content tends to get a higher engagement rate. Granted, in the world of social media, this doesn't mean you need to buy fancy production equipment and become a YouTuber. While YouTube is great for educational videos (e.g., what every first-time home buyer needs to know or when to choose a 10-year ARM), you can get a lot of exposure using video posts as well as with a Facebook Live or Instagram story.
Even if you're uncomfortable on video, it's arguably the best way to personally connect with your followers. In fact, people generally prefer to see real estate agents speak naturally—like on Instagram stories—instead of always publishing big video productions. It makes people feel like they know you and it can be a great (free) marketing tool to help promote events such as an open house.
Another great way to utilize video is to show behind-the-scenes footage. You can show some of your day-to-day activities, like touring houses with clients. This is another great way to show your personality and make potential clients feel connected to you. You can use behind-the-scenes footage on multiple different channels, but check out more details on how to use Instagram for real estate.
Pro tip: If you do decide to get in front of the camera, be sure to act natural to avoid coming off as salesy. Take a "show, don't tell" approach to help sell your expertise and listings.
11. Reach a Targeted Audience With Facebook Ads
Facebook Ads are a great advertising tool for the real estate industry. First off, it's cost-effective with low minimum ad spends and you only pay when someone interacts with your ad. Second, it offers a ton of audience targeting options, so you can hone in on your ideal client by area, interests, other sites they've recently visited, income level, and more.
Of course, to create effective Facebook Ads, you'll need to learn how to use the ad platform. If you don't have time (or the interest) to learn, consider using Hibu to create highly effective Facebook ads. It's one of the most affordable social media management agencies and with Facebook advertising experts managing your account, you're bound to see the growth you're looking for.
Visit Hibu
12. Use Testimonials to Highlight Past Successes
Nothing builds trust and authority quite like testimonials. After every successful real estate transaction, ask your clients for a testimonial—the more specific they can get, the better. You can then share those testimonials directly on any social media platform.
You can also take a picture with your clients at closing and tag them on social media. Since this is a major life event, these posts frequently receive a high level of engagement from their friends and family—which gives you free exposure.
13. Keep Your Posts Hyperlocal
Focusing your social media posts on one area helps you target highly qualified people who are living or moving to your location. Offering lots of informative posts and articles for residents or prospective homebuyers will help you become known as the top expert in your area.
For example, use geotags in your post (e.g., with Instagram) to let people know where you and your listings are. This also helps people in the area discover your social posts.
14. Speak Directly to Your Audience
In order to make an impact on social media, you need to be clear and specific about who your audience is. Many real estate professionals make the mistake of over-generalizing their audience. If you try to attract and speak to everyone, you won't resonate with anyone. In the beginning, try some different things to figure out who you attract and what they respond to the most.
For example, after pinpointing your brand, focus your content around that brand. An agent whose niche is commercial real estate would promote commercial listings as well as information about local business laws and resources, as their audience is likely business owners and future business owners.
15. Increase Exposure & Reposts With Tags
Tags help your posts gain exposure, so be sure to tag relevant accounts to your posts (e.g., on Instagram). For example, if you're an agent with Sotheby's, tag Sotheby's Instagram account in your posts. Because many brokerages are well-known names, odds are their social account has a lot more followers than yours. And by tagging them, your post shows up under their tagged posts, and they may opt to repost your post on their account.
Additionally, consider tagging other relevant accounts. For example, if you're promoting a high-end listing in Santa Barbara, consider tagging local magazines, such as the Montecito Journal, so that your post is displayed in their tagged photos and they may choose to repost your post. Or, say you used a staging company—tag them to gain additional exposure.
Of course, hashtags are another tool for landing exposure on social networks like Instagram and Twitter. If you're not sure where to start, check out the best hashtags for real estate.
Bottom Line
Real estate social media marketing can be an incredibly powerful way to grow your business and attract people who want to work with you. It can be your source of real estate lead generation and build your authority until you are well-known and highly respected in your niche or community. By creating a marketing strategy and using these social media tips, any real estate professional can create a successful online brand.
You Might Also Like…